Thai beef salad with nam Jim
30min to prep 10min to cook serves 4
Ingredients
o 1 bunch coriander with roots in tact, leaves picked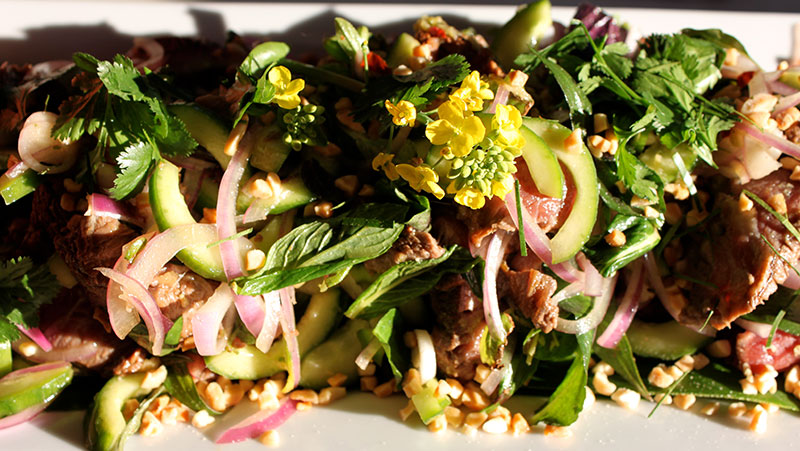 o ½ cup of Thai basil leaves
o 2 kaffir lime leaves, vein removed, finely sliced
o 3cm piece of ginger finely grated
o 2 cloves of garlic thinly sliced
o 4 birds eye chillies
o 3 limes zested & juiced
o 3 tablespoons fish sauce
o 2 tablespoons palm sugar grated
o 1 kg sirloin steak, cut into hand size steaks
o 2 tablespoons vegetable oil
o 1 red onion halved and thinly sliced
o 1 Lebanese cucumber, halved seeded, thinly sliced
o 1 cup mint leaves
o ½ cup of chopped roasted peanuts
Method
Step 1
To make nam Jim, cut roots from coriander, rinse well, keep the leaves for
serving, put coriander roots , garlic, ginger, 2 chilies, lime zest and juice , fish
sauce in pestle and mortar and mix until finely chopped. A food processor or
blender can also be used.
Step 2
Put half the nam Jim in a large bowl with beef and cover and refrigerate to
marinate, minimum 30 minutes.
Step 3
Heat large skillet or fry pan and put a little oil in, high heat, pan must be hot,
cook beef for 2 to 3 minutes each side for rare, 4 minutes each side for
medium, set aside and rest.
Step 4
Slice beef thinly, place onion, coriander leaves, mint, remaining chopped
chilies, beef in a large bowl and toss.
Step 5
Arrange the salad on a plate and sprinkle with peanuts, enjoy!