COME AND VISIT OUR 8 ACRE PERMACULTURE TRAINING CENTRE
About the venue:
The property features a eight year old food forest planted on swales, dripping with delicious sub tropical fruits including bananas, guava, feijoa, fig, mango, citrus and stawberries. A chook tractoring system, no dig gardens and a chop and drop mulching system have improved the soil on this rocky ridge where there is now a productive ecosystem. Happy chickens were freeranging in a fox proof chook house reusing an old caravan. Starting with zone 0, the solar passive designed house has been developed over the last 13 years with design features of rammed earth, light earth, mud brick with an on site grey water treatment system, solar panels and even home grown bench tops!
Accommodation in our Rammed Earth Home

Food Forest – fruit trees planted in swales

Wicking bed – with leafy greens
Megan Cooke
Founder, teacher – Garden to Table Permaculture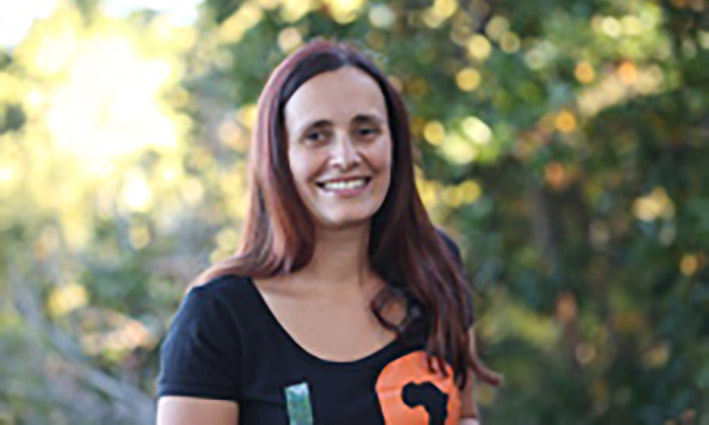 Megan Cooke
Director of Garden to Table Permaculture, Megan has a combined 24 years experience in horticulture, permaculture and outdoor education. Megan is actively involved in the Permaculture Industry, currently a director for Permaculture Australia.
She worked for Great Lakes Council teaching 'Gardening for Sustainability Program' and also enjoyed teaching children about growing their own produce in the Stephanie Alexander Kitchen Garden Program.
Megan managed Forster Community Garden for seven years, working with indigenous and local community volunteers to produce healthy chemical free food. In 2013 Megan visited Malawi in Africa where she completed her second Permaculture Design Course.
Certified by Milkwood Permaculture, she completed her teacher training with Rosemary Morrow in 2012.
Megan is passionate about teaching people the joys of growing and cooking their own organic food and sharing the knowledge she has learnt from her sustainable living journey of building a rammed earth passive solar house surrounded by Permaculture gardens with her husband and two children in Pacific Palms.
Brett Cooper
Teacher – Garden to Table Permaculture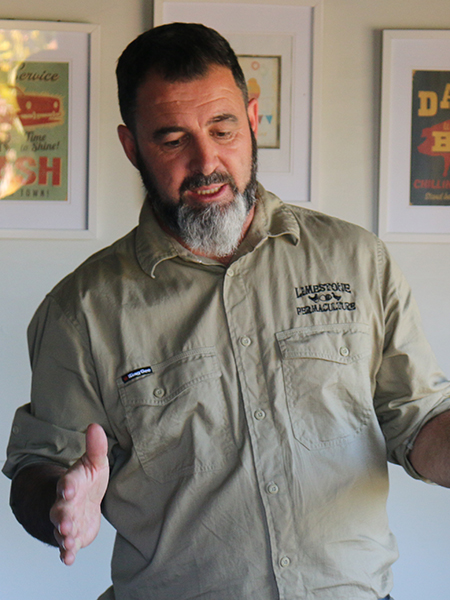 Justin Cooke is the director of Natural Earth Building and he specialises in the construction of Rammed Earth, Mud Brick, Light Earth and Straw Bale. Justin is a landscaper, earth builder and carpenter with a combined 30 years experience. Over the last 13 years he handcrafted his families home and successfully completed his Permaculture Design Course in 2006 with Robyn Francis.
In the past Justin has worked with the Earth Building Association of Australia.
His passion is using natural materials to create handcrafted buildings and designing Permaculture Properties.
Brett Cooper owns and operates Limestone Permaculture Farm with his wife Nicole & two children in the Stroud Valley, on the Mid North Coast, a small diverse farm with a farm gate, market garden and mixed animals. He works as a Permaculture designer, educator & market gardener.
Brett is a Carpenter & Joiner by trade, has years of experience in Building & Landscaping, carries Diplomas in Project & People Management, is certified by Permaculture Research Institute for his PDC undertaken with Allyn River Permaculture and has been vegetable gardening for over 40 years.
In the past, Brett has been a director on the Gloucester Food Hub, coordinator for the Mayfield Community Gardens, manager for the Stroud Growers Market and is currently the Chief Steward of the 'Produce Pavilion' at the Stroud Show.
His passion is teaching small scale permaculture & designing 'Permaculture Principled Homesteads'.!
"I took this Permaculture Design Course to learn a bit about growing fruit and veg. I didn't expect it to be a life changing experience. I would highly recommend anyone that is slightly interested in permaculture to do a PDC."
"I came into the course knowing that I love to garden but wanting more than just creating a garden that is pretty to look at. The PDC has helped clarify my thoughts on what I need to do within my own garden and how I can share that with people that are likeminded or not. We live in a wasteful society and I like thing to have a purpose and be useful, so I myself is not contributing to this problem. I've learnt a lot from the content in the course but it has also encouraged me to go beyond that and research further into other topics and therefore making me reassess what is important to me, my family and our future".