COME AND VISIT OUR 8 ACRE PERMACULTURE TRAINING CENTRE
About the venue:
The property features a eight year old food forest planted on swales, dripping with delicious sub tropical fruits including bananas, guava, feijoa, fig, mango, citrus and stawberries. A chook tractoring system, no dig gardens and a chop and drop mulching system have improved the soil on this rocky ridge where there is now a productive ecosystem. Happy chickens were freeranging in a fox proof chook house reusing an old caravan. Starting with zone 0, the solar passive designed house has been developed over the last 13 years with design features of rammed earth, light earth, mud brick with an on site grey water treatment system, solar panels and even home grown bench tops!
Accommodation in our Rammed Earth Home

Food Forest – fruit trees planted in swales

Wicking bed – with leafy greens
Megan Cooke
Founder, teacher – Garden to Table Permaculture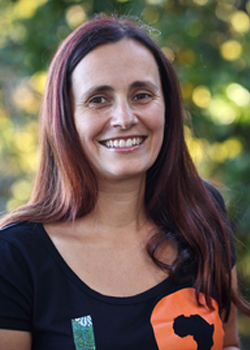 Megan Cooke
Director of Garden to Table Permaculture, Megan has a combined 24 years experience in horticulture, permaculture and outdoor education. She has spent the last 15 years designing and implementing a Permaculture Property including a Rammed Earth home and Permaculture Gardens.
Megan is actively involved in the Permaculture Industry, previously a director for Permaculture Australia. Megan is based in Pacific Palms and offers a garden advisory service from Newcastle to Port Macquarie in person or via Skype to anywhere in the world! You can also stay in Studio 74 which is perfect for couples or Eco Escape perfect for 8 mature adults or 2 families on their Permaculture Property and experience living in a warm and cool earth home with all the mod cons.
Megan is on her own healthy living  journey and she is now sharing with other people what she has learn along the way. She is currently busy designing gardens and helping other people make their garden visions turn into a reality.
"I took this Permaculture Design Course to learn a bit about growing fruit and veg. I didn't expect it to be a life changing experience. I would highly recommend anyone that is slightly interested in permaculture to do a PDC."
"I came into the course knowing that I love to garden but wanting more than just creating a garden that is pretty to look at. The PDC has helped clarify my thoughts on what I need to do within my own garden and how I can share that with people that are likeminded or not. We live in a wasteful society and I like thing to have a purpose and be useful, so I myself is not contributing to this problem. I've learnt a lot from the content in the course but it has also encouraged me to go beyond that and research further into other topics and therefore making me reassess what is important to me, my family and our future".